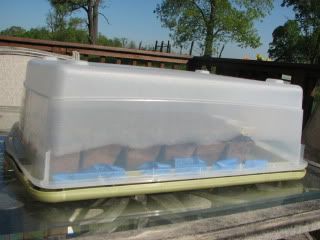 If you've been reading my blog, you know that I posted about a week ago about a really simple idea for a homemade greenhouse. If you have no idea what I'm talking about, you can go see it
here
. Brett and I took the simplest route possible - no holes drilled or anything. We just used one of the small containers we had in the basement and set the lid on top. No seriously, it was that easy. It's off center slightly for appropriate air flow, but my seedlings seem to love their new environment!
As you can see, my brilliant husband labeled everything so we actually know what seeds are what.... we made the mistake of not doing that last year. Oops.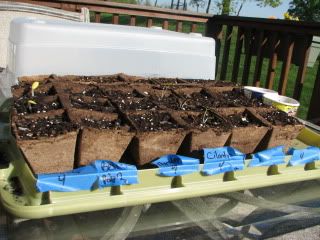 In just a week, some of them are sprouting and looking healthy!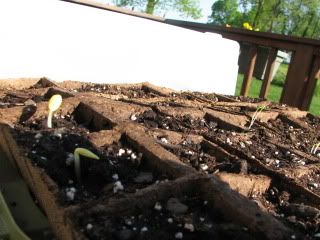 And just where will these cute little seedlings be going when they are ready? Our garden box, of course! Right now we have broccoli, swiss chard, spinach, garlic, and onions in there. Those were all raised at a local farm and were seeded for growth in temperatures of 40 degrees or higher. They are very hearty and are about 5 times the size that they were when we bought them!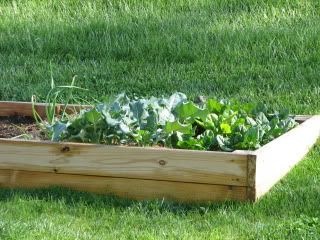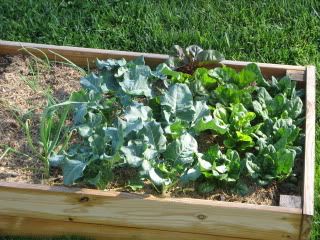 I can't wait to eat some of this!!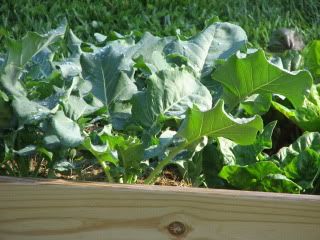 My pretty flowers: