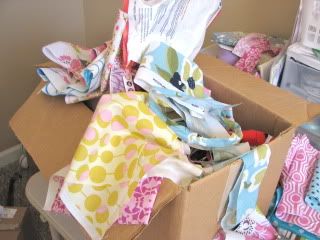 I have a ton of fabric scraps. I do sell them occasionally but most of the time, it looks like a fabric fairy threw up in my scrap box. I've been searching all over the place for a way to get more hours in the day to DO something with my scraps. Surprisingly, no good tutorial in the world could help me stretch time by even an hour..... So what's a girl to do with a ton of fabric scraps and hardly any free time?
Today that little bit of time turned into a rolled fabric flower. It took me ten minutes to make one. Well, I did a practice one first, unraveled it because it sucked, and then tried again with prettier fabric! This whole entire process was made all the less stressful because of the fabulous tutorial I found over at
My Sparkle
! She gives great detailed photos and concise directions. It made it super easy, even for a timeless, stressed momma like me!!!
All I needed was a one inch strip of fabric (I used one that was 42" long for a finished flower 1.5" in diameter), my fingers, and a little fabric glue. I'm a big fan of Fabri-Tac. :)
So easy and really, really cute! Now I just need to make more and put them on something! A tank top, a headband, a book cover, a Starbucks coffee sleeve! The possibilities are endless. :)