My friends, my sweet blog friends, you've been neglected. It has been over a month since my last blog post and I apologize sincerely. Would you believe me if I told you I missed you? In a very platonic, internet-bloggerific way? Well I did. I honestly enjoy blogging and I'm excited to get back to it. I hope this post finds you well. We have had quite a bit of a rough summer, but I'm back to sewing and creating. I've got a few new things to post about in this article. I'm working on more newness today. Potentially Halloween newness! I need to work on some more Christmas items as well. Yes, I did say Christmas. You know, I was at the mall a couple of weeks ago and Hallmark already had Christmas Ornaments on front display. I about had a heart attack, thinking that it was September and that I'd missed months of my life, but no, Hallmark is just crazy.......
So anyway, enjoy some of my new creations. Tell me how you are! Are you having a good summer? Are you tan (I'm not, although I wish otherwise)?
I usually do peasant dresses with elastic in the sleeve casing, but I really love the look of them without.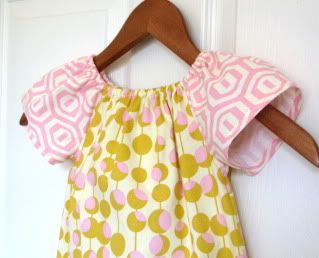 I had to give you just one fall goodie!!