There's always a great giveaway or blog post on
Natural Mommie,
but
this is one
I really, really want to win!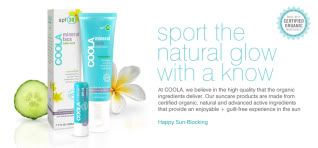 If you haven't heard about it already, allow me to introduce to you,
Coola Skincare
. Be fresh and tan without being red. ;) I like my tan as well as the next lady, but let me tell you... the peeling shoulders I embarrassed myself with last week are not the way to go. Typically I don't burn... I am pretty good about using sunscreen, but even I thought I was immune to the sun's powerful rays. Did I mention that skin cancer runs in my family? Yes, it does. So when I get a sunburn, it's like writing down the steps to cancer in a journal.
And it's stupid. There I said it.
It's stupid.
Do I need to say it again? If you're reading this with your own early spring sunburn, I think it already reiterated itself in your head.
So anyway, enter the
giveaway
and save yourself more pain and peeling. I can't wait to try it!