This site is so super cute! I am ordering a hair bow holder for Ava's room. The seller also has a shop on etsy and we've been in contact. Today she said that she linked my etsy shop on her page that has "Links she Loves" on it!! I'm so excited and feel honored to be among some amazing crafters and artists!!
http://www.iwantedtowonder.wahmweb.com/store/WsAncillary.asp?ID=47
Here's the main page: http://www.iwantedtowonder.com/store/Default.asp She has great customer service and her art just speaks for itself. It's adorable. If I had unlimited funds, the kids rooms and bathroom would be decked out! The cuteness almost kills me. Love it!!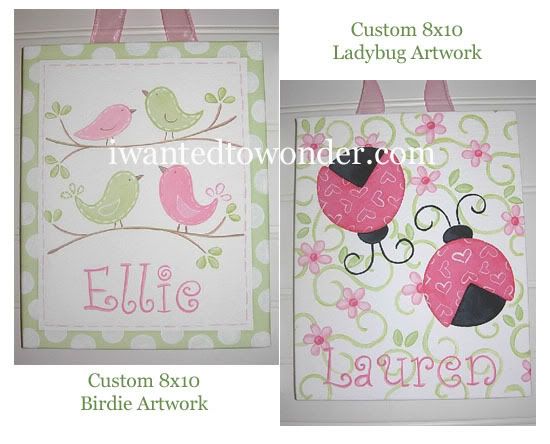 You have to check out her shop!! Also, take a look at what Miss Ava is getting for her hair bows!!! This way I won't lose them by the handful! What an awesome idea! That is her bedding and the picture (birds) that will be personalized with her name. I'm so excited!